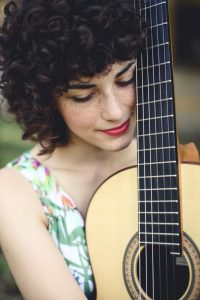 Cristina Galietto's musical studies have been strongly influenced by the presence of her father Alberto, a classical guitar teacher, who introduced her to this wonderful musical instrument. At the age of 10 she started attending the Conservatory of Music "San Pietro a Majella" in Naples.
Cristina participated in numerous national and international music competitions, obtaining always prestigious results and the exhortation by the teachers in the competition juries to continue the excellent work started. In 2018 she obtained the old course diploma of music with the highest marks and praise (cum laude); in the meantime she finished her studies at the high school with the highest marks.
She attended M° Carlos Bonell's private lessons at the Royal College of Music in London for the entire school year 2016-2017, period that she spent attending an English High School and living in England. During the time of the Italian high school she had Prof. Enzo Amato as Guitar teacher.
Since December 2017 she attends the courses of specialization at the "Stefano Strata" Academy of Pisa in the class of M° Aniello Desiderio.
Since November 2018 she began to refine at the "Domenico Cimarosa" Conservatory in Avellino, taught by M° Lucio Matarazzo.
She was awarded a scholarship by Eurostrings to attend the Guimaraes International Guitar Festival 2018 in Portugal, and one by the International Guitar Festival in Rust 2019 (Austria); moreover, she was attributed the George Karagiozis and Manolis Hadjiemmanouil 2019 European scholarship to attend "the Volterra Project 2019" (Italy).
Cristina met many teachers of international fame (Leo Brouwer, Eduardo Isaac, Costas Cotsiolis, Aniello Desiderio, Carlo Marchione, Zoran Dukic, Angelo Gilardino, Georg Schmitz, Alfonso Montes, Maria Linnemann, Irina Kircher, Tali Roth, Luciano Tortorelli, Cristiano Porqueddu, Antigoni Goni, Dusan Bogdanovic, PacoSeco, Edoardo Catemario and many others) who have always had words of praiseand exhortation for her.